Data Integration Tutorial
This tutorial refers to Userlike's live chat product. For Userlike's Unified Messaging tutorials, click
here.
Userlike features an open data system that provides advanced options to tailor your chat setup to your specific business case. It allows you to control, track, send data to, and extract data from your chat system. This tutorial explains the possibilities and offers you directions for all data-related topics.
Controlling the chat
To make the chat interact with your unique type of Webvisitors in the way you want it to you can set up an advanced chat behavior. Our open API gives you full control.
Remote API
The right timing and the way a chat session is started are vital for a successful conversation. If you are running an eCommerce website, you want to let your Webvisitors browse your offerings without interruptions while you stand by to assist. But when you find them stuck with a filled shopping cart during checkout, you want to be proactive and offer help.
Our Remote API is exactly made for these cases. It lets you define chat action triggers for specific situations so you can address your Webvisitors appropriately. This way, your business logic can "remotely" select the best chat mode instead of you relying on a one-size-fits-all approach.
Google Tag Manager
Consider integrating Userlike with the Google Tag Manager if you want to enable your non-technical staff to control how your chat behaves on different parts of your site.
Learn from our Google Tag Manager tutorial how to set up an integration that triggers the chat differently, depending on whether your Webvisitor is currently in the checkout process or not.
Once set up, changing or extending the behavior of your Widgets for different pages on your website becomes a lot easier. Especially if you use the Tag Manager with our Remote API. Widget setup does not require technical staff for most changes.
Operator status API
Sometimes another application demands the full attention of your Operators, like an incoming phone call. If your staff constantly works separate support channels, consider using our Operator status API to improve their workflow and tighten channel integration.
For example, set up your telephone system to update your Operators' availability status using the API. This way, an Operator answering a phone call is automatically set to "Away" in the Chat Panel and doesn't receive any new chat sessions while on the phone. After the call, your system then sets the status back to "Online".
Injecting data into the chat
Another use of our API is to push external data of Webvisitors, yourself or third party applications into the chat system. Such valuable context information will help your Operators deliver better support. Read more.
Register approach
With registration mode enabled, your Webvisitors are asked to provide certain data before starting to chat. If you want to match your Webvisitors against your own customer database, for example, you can ask for their customer ID so your Operator has it at hand when starting the chat.
You can activate "Registration Chat" by selecting a Widget in the Widget overview and entering the "Behavior" tab. The standard options are name and email, but you can add custom fields, such as Webvisitors' phone numbers or their customer IDs.
This data is not only available for your Operator in the Chat Panel, but also stored with the chat transcript and thus available for later follow ups. It is also included when you pull your chat transcripts using our API.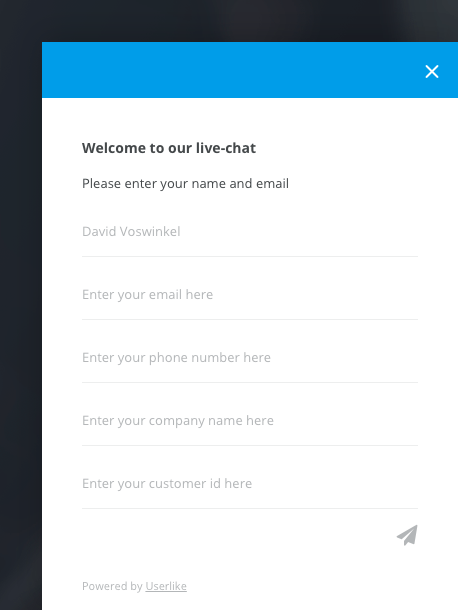 Facebook register approach
This mode is an extension of the normal Registration Chat. Instead of manually entering the contact data, your Webvisitor can provide you with his name and email by logging in to the chat with a Facebook account.
Custom data
Knowing what a Webvisitor has in his shopping cart or how long he's been around in your backend can be handy information for your Operators. These and whatever data from your system would be useful during your live chat service – you can send it to Userlike.
All custom data is not only available for your Operator in the Chat Panel but also stored with the chat transcript and thus available for later follow ups. It is also included when you pull your chat transcripts using our API.
Extracting data from the chat
Just as it is possible to insert data into your chat system, it is also possible to extract data and optionally send it to other destinations. This simplifies both follow ups and analysis.
Tracking your chat system
You can track how Userlike is working for you overall and how specific measures that you took with the chat system performed. You can either use your default Dashboard Analytics or an external tracking tool.
Analytics
Our Dashboard's "Analytics" section offers data that reflects your chat performance. It is structured to give you quick and meaningful insights about your chat usage, helping you optimize your setup.
Integrating with your website tracking solution
If you are already using a website tracking solution for your website you might be interested in adding Userlike specific interactions to your tracking. Go to the tutorial.